Dedham Savings
Dedham Institution for Savings was founded in 1831 in Dedham, MA by citizens who wanted a mutual bank to benefit its depositors. Today, Dedham Savings serves the community with 8 branch locations in 6 different towns. Dedham Savings' goal was to rebrand their company across all media platforms and attract new customers to serve.
To get started, we held a discovery meeting with the staff at Dedham Savings to identify the inner workings of the business, what areas of the business were the most vital, which needed to be refreshed and what exactly customers expect from Dedham Savings. With all of this discovery information in mind, we conducted extensive research and came back with recommendations to move forward.
It All Starts With Branding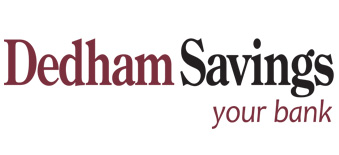 Dedham Savings wanted to rebrand their image to be consistent across all communication mediums. We refreshed their logo to have a professional while appealing to the customer with the personal "your bank" tagline. We used this newly refreshed logo to consistently brand Dedham Savings on their website, their traditional marketing materials and their social media presence.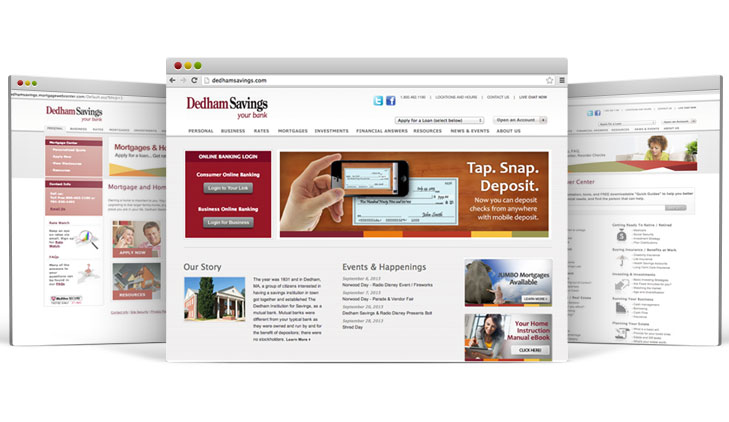 Simple and User Friendly Website Design
When visiting a banking website, customers want simplicity and trustworthiness. We created a website for Dedham Savings that is easy for customers to navigate while providing all of the essential information identified by Dedham Savings. The clean, professional design puts all of the information at new customer's fingertips while making existing customers feel at ease entering their private banking information. Dedham Savings' website is also completely optimized for relevant industry keywords.
Dedham Savings uses numerous forms of traditional media for promotions and brand awareness campaigns. We created customized advertising campaigns and designs for each project to keep their image fresh and unique. We use these distinctive campaigns and Dedham Savings' rebranded image on flyers, mailers, posters, digital slides, print advertisements, brochures and more to create awareness and attract new customers.